The latest versions of the CheckCentral mobile apps now support custom push notification sounds, so that you can customize your alerts to your liking! The custom notification sounds are available in version 1.4 and up, so if you're not seeing those options in the Settings on the mobile app, switch to the Help page and scroll to the bottom of the page to make sure that you're running 1.4 or higher.
You can set the notification sound for each notification type (Success, Warning, and Failure). For each type, you can choose either the System Default, CheckCentral Default, or a custom notification sound on your device.
To configure the notification sounds:
Open the CheckCentral mobile app
Tap the menu button (top-left)
Tap the Settings item in the menu
Use the buttons on the Settings page to select your notification sounds
Tap the Test button to get a test notification
If you don't receive the test notification when you tap the Test button, scroll to the bottom of the Settings page and tap the Re-register button to try re-registering your device for push notifications.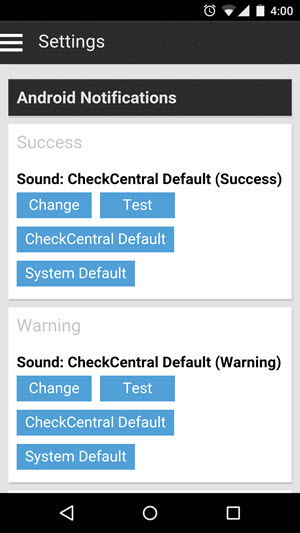 Customizing Notifications