We're very excited to announce some changes to our CheckCentral subscription plans that are rolling out today. We're doing away with the old tiered plans, and moving to a system where you only pay for the checks you need, as you need them. Getting started with CheckCentral has never been easier or more affordable!
Starting today, you'll be able to add or remove checks in groups of 10, with each group costing $5. In addition, all paying customers get access to all of our Enterprise features, including unlimited users, API access, and custom dashboards! We're also removing the limit on the number of groups that can be configured. Our discounts for pre-paying quarterly or yearly are still available as well.
For our existing customers, you will be grandfathered in at your current subscription rate, and you can easily change the amount of checks on your account via the Subscription page.
If you have any questions or comments about these changes, please don't hesitate to get in touch with us.
I'm an existing customer. How do I make changes to my check allotment?
After logging in to your CheckCentral organization, click the Subscription link in the top menu. At the top of the Enterprise plan column, there's a slider you can drag left or right to decrease or increase the number of checks you're paying for. The updated monthly subscription cost will be displayed immediately.
I'm a new customer. How many checks do I get during the 60-day free trial?
As many as you like! On the Subscription page, you can adjust the slider to increase or decrease the number of checks at any time during your trial.
What do I do if I'm not sure about these new plans?
Contact us with any questions that you have and we'll be glad to help out!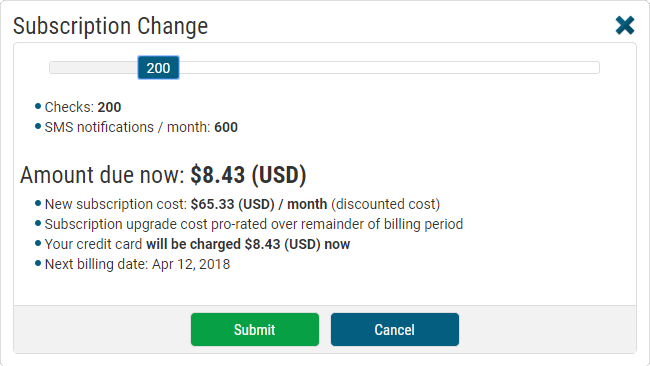 Add/Remove Checks Dialog